Santa Fe Trail Research
"Fort Larned Old Guard"
Preserves Cheyenne/Sioux Indian Village Site of 1867!!
"Fort Larned - School Programs"


"Auto Tour's of the Santa Fe Trail"
Best Viewed on a Smart Phone in a Trail Rut!
"Santa Fe Trail Sites - ©Microsoft Research Maps"
An Innovative Way to Look at Santa Fe Trail Ruts
The Santa Fe Trail got its start in 1821, with an advertisement in the Missouri Intelligencer by William Becknell, seeking men willing to join and invest in a trading expedition to the west. Becknell started on this expedition September 1, 1821 from the Franklin and Arrow Rock area of Missouri, ending at the Plaza in Santa Fe, New Mexico in November of the same year. His first trip was made with pack animals, the next trip to trade in 1822, Becknell used wagons. The Trail soon became a highway of trade and supply, connecting the southwest area of Santa Fe, New Mexico with eastern trade centers.
Our Santa Fe Trail Research site contains information about major trail projects undertaken, & research articles by several noted trail historians who granted our site permission to put their work on the net. Read about Trail history, view markers, take a auto tour and view photos of important landmarks along the length of the Trail. Have you got one of these or know where one is at we don't have listed, Oval Santa Fe Trail Signs? Send us the information as to where it's location is today & a photo if possible. View sites traders passed as they traveled the Trail. Wagon ruts can still be seen even though the wagon trains carrying trade goods have not trod its length for over one hundred and eighty five years. We have over a thousand pages of documented history, & hundreds of Santa Fe Trail Photos. There is a ten year index of Wagon Tracks. Instructions on how to order Wagon Tracks and other books from the Last Chance Store. A way to search our site for what you're looking for can be found on our book list page and our FreeFind link below. Also a page of just Odd News and Photos. Try out our new improved Site Map to help in finding articles that are on our site. We've divided it into sections, with links at the top to take you to each section. Let us know if you like or dislike it!
Travel with us down the Santa Fe Road from its eastern terminal of Old Franklin, Missouri where the road got its start, to the western trade center, The Plaza in Santa Fe, New Mexico. The Trail follows or is very near these highways. US 60 & US 24 from Franklin Missouri to Kansas City, Kansas, take I-35 from the Missouri/Kansas line to Gardner, Kansas. At Gardner, Kansas you'll find where Two Trails Split the Santa Fe and Oregon Trail. Leaving Gardner follow US 56 highway to the little town of Durham, Kansas & the Cottonwood Crossing. Be sure and visit all the Trail sites in Council Grove, Kansas. The next place we are heading for on our tour of the trail is Ralphs Ruts. The next section of the trail is the most researched and documented part of the Santa Fe Trail, done by the Wet/Dry Routes. This section also includes the Fort Larned National Historic Site a must see fort from the Indian War time period. A huge amount of historic information from Fort Larned can be found in the Fort Larned Old Guard's newsletter archive OUTPOST. Now we continue on to Fort Dodge, Kansas, about five miles east of Dodge City, Kansas. In Trail days there were several crossings of the Arkansas River between Dodge City and the Colorado border, but for the sake of this tour we will stay on a main highway. At Dodge City, you will cross the Arkansas River, taking US 56, heading for a place called Wagon Bed Spring on the Cimarron River. From their follow US 56 out the southwest corner of Kansas, across the northwest corner of Oklahoma to near Springer New Mexico. This route was called the Cimarron Cutoff, or Desert Route, the shortest route to Santa Fe, New Mexico. At Springer you will join I-25 and the Mountain Route of the Santa Fe Trail.
The start of the Mountain Route on the Santa Fe Trail, is located at Dodge City, Kansas, take US 50 to west of Las Animas, Colorado and Bent's Fort before turning south to cross the Arkansas River. The trail has followed the Arkansas River from near Ellinwood, Kansas to Bent's Fort in Colorado. Leaving the National Historic site of Bent's Fort, take US 350 in La Junta, southwest to Trinidad, Colorado, over the Raton Pass on I-25 to Santa Fe, New Mexico and The Plaza where traders ended their trip to trade their goods. If you follow these highways, you will never be more then a few miles from the original route traveled by traders and merchants. In many places the highway you are driving on was the Santa Fe Trail. In other places you will be able to view the same wagon tracks or ruts created by the heavy weight of the freight wagons from the highway, our site will show you where to look.
In Hamilton County, Kansas the Aubry Cutoff crossed the Arkansas River, taking a South/Southwest route into Colorado and New Mexico. The Fort Hays/Fort Dodge Road has been marked as it crosses Ellis, Rush, Hodgeman, Ness and Ford Counties in Kansas. There are auto tours of the Wet/Dry Routes, Cimarron Cutoff, Rice County, Kansas and Lexington, Missouri areas and others on our site.
You may ask, Is that all to do along the Santa Fe Trail? This link will help you find your own answer to that question with trail maps, mileage charts and other sites to visit. This list & our site by no means covers all the sites to explore, but then again the Santa Fe Trail is an adventure of discovery.
So sit back, take a slow breath, and consider the pace set by the old trail day Covered Wagons. You know, a team of oxen, mules or horses, pulling a heavily laden Conestoga freight wagon, the wagon train could only travel ten to fifteen miles a day, at a little more than two miles an hour. Enjoy your journey into the past, to the rich heritage of the Old Santa Fe Road. Take yourself back in time, listen for the creak of the wagons, or the lowing of the oxen, maybe spot an Indian on the far ridge, but remember: Slow down, let your mind wonder and enjoy the histor you are standing near!!
We've tried to make our site simple, no special programs or registration is required to view our site other then the browser or smart phone of your choice. This was done so everyone can enjoy the history of the Road to Santa Fe. Also many of the graphics on our site will take you to more history of the Santa Fe Trail, like the ox yoke, the "Meet Us Half Way" graphic below or the worms near the top of the page.
A very important thing to remember as you visit many of these Santa Fe Trail sites, most of the Trail is on "Private Property and should be treated as such!"
Santa Fe Trail Research Site Map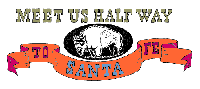 St. John, Kansas
Forts Along The Santa Fe Trail

| Fort Osage, Mo. | Fort Leavenworth, Ks. |
| --- | --- |
| Fort Riley, Ks. | Fort Zarah, Ks. |
| Fort Larned, Ks. | Fort Coon, Ks. |
| Fort Dodge, Ks. | Fort Mann, Ks. |
| Fort Atkinson, Ks. | Fort Aubrey, Ks. |
| Fort Ellsworth, Ks. | Fort Harker, Ks. |
| Fort Hays, Ks. | Fort Wallace, Ks. |
| Fort Supply, Ok. | Bents Old Fort, Co. |
| Fort Union, Nm. | USGS Aerial Photo |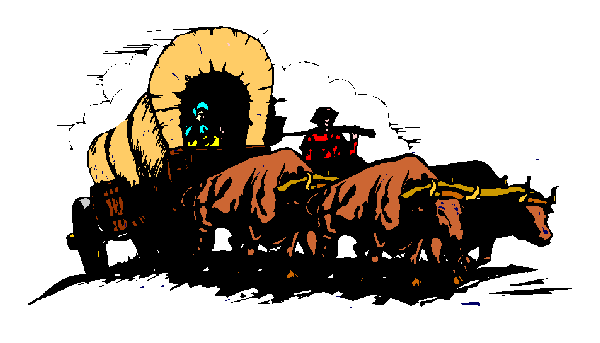 Santa Fe Trail Research Site
Maintained & Copyright
by
Larry & Carolyn
St. John, Kansas
Material from these pages may be used
with prior written consent from the webmaster only!
© "1997 -- 2013"
Santa Fe Trail Research Site = 3,740 files -- 128,337,600 meg
1,100+ pages
"Web Site Made With Care Ware"
Yours Should Be Also!
"1/10/08-22"
www.santafetrailresearch.com/
"1/21/98-07"
St John Kansas Dot Net
"1/10/08"
10/01/09 = 1,042,691